Details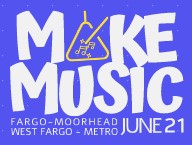 Make Music Day is a free celebration of music around the world on June 21, the longest day of the year. Launched in 1982 in France as the Fête de la Musique, it is now held on the same day in more than 1,000 cities in 120 countries.
The Fargo Moorhead West Fargo metro is excited to join in the celebration! Completely different from a typical music festival, Make Music Day - FMWF Metro is open to anyone who wants to take part. The aim is for every kind of musician — young and old, amateur and professional, of every musical persuasion — to pour into the streets, parks, plazas and porches of the FMWF Metro to share their music with family, friends, neighbors and strangers. And all of it is free and open to the public.
To close out Make Music Day, Broadway Square is also hosting its third Music at The Square performance of the season, featuring Kathie Brekke & the 42nd St. Band at 7:00 pm.
Event Details
Make Music Day - FMWF Metro is a volunteer-run event by the community for the community, so we need your involvement to make it possible! Local venues, including Broadway Square, host local musicians and local musicians play at local venues. Participation costs nothing, but musicians are not paid. 
Registration for Make Music Day - FMWF Metro is open! Please create an account and then register as a performer.
The deadline to sign up is Monday, June 20.
All performances at Broadway Square must be family friendly!